Cebu is a narrow island, dense populated (Cebuanos), extending on nearly 200 kilometers from north in the south and on forty kilometers is in west in its greater width. It is crossed, in the direction length, by a mountainous backbone culminating with 1108 meters with the Cabalasan mount. Its climate is tropical.
It is surrounded by 167 smaller islands of which those of Mactan, Bantayan, Daanbantayan. Cebu is one of the most developed provinces country. The principal city, administrative center and second harbour zone of the Philippines, is Cebu City cash nearly 700.000 inhabitants. Cebu City, by including the adjacent cities of Mandaue and Lapu-Lapu (Mactan), constitutes the second urban whole of the country after that of the Manila capital.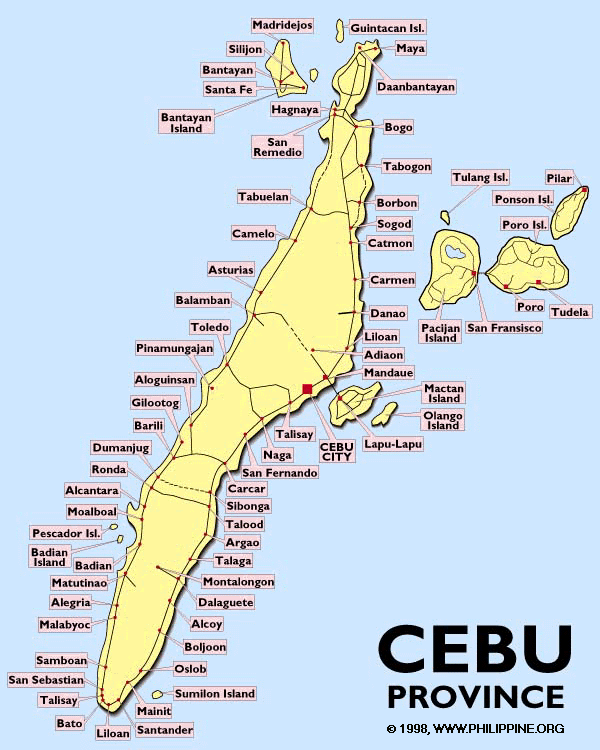 The international airport of Mactan-Cebu is located on the island of Mactan at about thirty minutes of the centre town of Cebu. Cebu-Mandaue are connected to Mactan by two bridges open to the road traffic and crossing the arm of the sea separating the islands from Mactan and Cebu.
The area was discovered, on behalf of Spain, by Magellan the Portuguese conqueror in 1521. It is on the island of Mactan that Magellan was killed on April 27 of the same year.
COLON STREET located on what is known as the Parian District in downtown area.

FUENTE OSMEÑA A fountain honoring Cebu's favorite son, the late Philippine President Sergio Osmeña Sr.

LAPULAPU MONUMENT, Punta Engano, Lapu-lapu City

CAPITOL BUILDING, Osmena Blvd., Cebu City- The seat of the Provincial government.

CHAPEL OF THE LAST SUPPER 250 year old life-size replica of the Lord Jesus.

MAGELLAN'S MARKER Magellan crossed the channel to Mactan in the effort to spread the faith.

MAGELLAN'S CROSS, Magallanes Street Planted in April 21, 1521 by Ferdinand Magellan.

FORT SAN PEDRO, Pier Area, Cebu City The smallest, oldest tri-bastion fort in the country.

HERITAGE OF CEBU MONUMENT, Colon Street, Cebu City Located on the original Plaza Parian.

MOALBOAL Located 89 kms. southwest of Cebu, it offers modestly priced cottages for rent, white sandy beaches.

MACTAN BEACHES Famous worlwide for its beautiful white sand beaches and pristine clear waters, for an exceptional vacation experience.