The Kingdom of Morocco!
Morocco is a land so intrinsically beautiful and rich with heritage that the moment you step foot on it you feel completely transported to another time.
Ouarzazat, the Moroccan desert
Enough of the moderate climate? If you want to pass from the heat to the cold without transition, the town of Ouarzazat makes it possible to you to discover the desert by observing the snow-covered solid masses of the High-Atlas.
With the Capital of the area of Draâ is the starting point of a number of excursions towards the Moroccan South. If the city regore not of charms, in revaches the valley of Draa deserves the turning with its strengthened oases and its cities.
Called formerly "the road of the 1 000 Kasbahs", the area was recognized for its cultural inheritance when the cashbah of Taourirt and it of ït Benhaddou were registered with the world inheritance of UNESCO.
For the excursions in the desert, caution with the blazing sun and the particularly fresh nights.
Berber workshop of potery in the kasbah of Taourirt
Ouarzazat
The Moroccan desert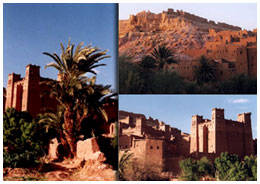 Hotel in Ouarzazat
Ouarzazat, will the World Wide Cinema Capital
Draa valley Morocco
Map of Morocco